Want to Feel Super? Add These Regional Superfoods to Your Daily Routine
One of my favourite sayings is, "focus on what you can control", simple, poetic and effective. Especially during these uncertain times, there is a ton of capriciousness and ambiguity, but that doesn't mean we need to be overly stressed or lose our minds on trying to control the uncontrollable. Instead, let's focus on what we can control.
One of the most transferrable and basic areas of our life that we can control is our nutritional intake. It's fascinating how much food effects not only our physical state of being, but also our mental and emotional well-being as well.
Rather than freaking out about the unknown, let's dive into as many preventative – controllable – measures as possible to boost our immunity, strengthen our cells, and feel great in the process. In this 4 part blog series – posted every Wednesday for the next month, we will be taking a close look into 4 scientifically proven health measures we can implement into our daily routine, that can limit the effect of outside-our-control viruses and common diseases.
For this blog, we look at superfoods, which are aptly given their name due to the amount of cell protecting, disease fighting properties they all possess. The goal isn't about eating all of these recommended superfoods everyday necessarily, but adding in as many of these as possible, and in doing so, replacing some of the nutrient deficient junk we are shown to be consuming too much of currently.
PepsiCo announced that sales of snacks like Doritos and Lays chips, oatmeal and Aunt Jemima pancake products jumped late in the first quarter, with organic sales up nearly 8%.

Credit Suisse reported that packaged food sales in the U.S. could jump anywhere between 15% to 30% between March and May, thanks to a "massive shift in eating patterns."

– Forbes: Carlie Porterfield
There we have it. The way I see it, 2 superfoods per day is better than 1, and 3 is better than 2, and 4 is better than 3; the important thing is that we at least start with some, reaping the positive effects they have. Remember, all habits compound, and this is a great habit to commit to.
BONUS: These foods are natural weight loss and fat burning foods. Not only are you going to feel great, strengthen your bodies immune system, but you'll look better naked!
The Mediterraneans have it right
The Mediterranean diet is well known for being full of superfoods, like extra virgin olive oil, nuts and seeds, berries, legumes, organic whole grains (Quinoa, oats, brown rice, barley, buckwheat), fish, eggs, fresh spices and herbs, limited red meat (still good for us) and a ton of leafy greens.
Because this approach is so effective, and something I basically apply into my own daily routine without thinking about it or telling people I'm on a "Mediterranean diet", we're going to take a closer look into these particular regional superfoods!
All of the foods above contain disease preventing antioxidants, nutrients and ingredients, which we will get into detail below.
Olive oil:
Extra Virgin Olive oil should be a staple in everyone's house. This particular oil is full of heart and brain healthy omega 3 fatty acids, shown to reduce inflammation and aid in proper brain, and cellular function.
For more information check out my latest blog on Oils to avoid and oils to consume more of.
Ways to eat it: As a salad dressing (mixed with vinegar and lemon juice), as a cooking oil (on lower heats), or as a dressing on wild rice or quinoa.
Nuts and seeds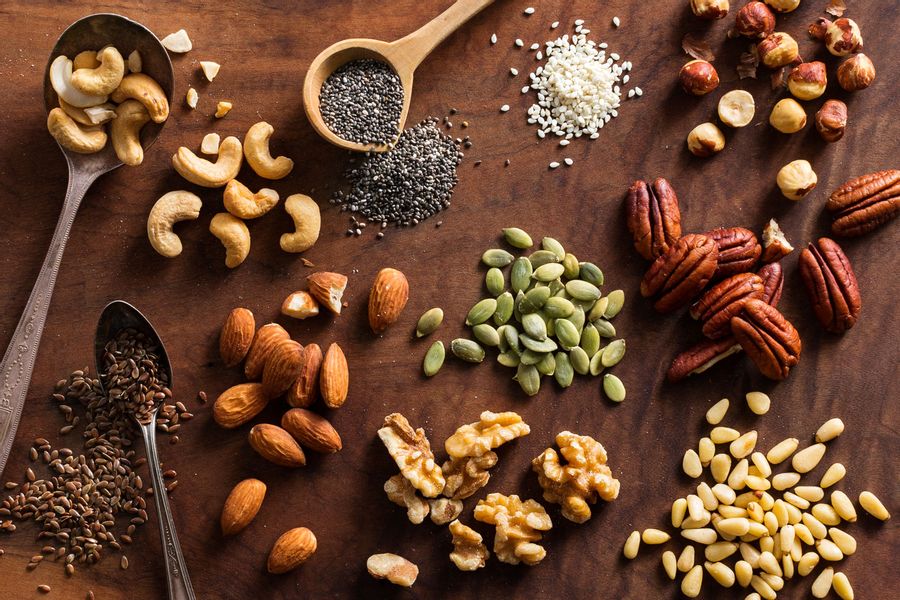 Nuts and seeds are great for a number of reasons, starting off with the variety they possess and the taste: Almonds, walnuts, pecans, hazelnuts, cashews, brazil nuts, chia seeds, flax seeds, hemp seeds, sunflower seeds, and the list goes on.
These foods are rich in fibre, which aid in proper gut health and reduced risk of obesity and diabetes, as well as containing anti-inflammatory omega 3 properties.
Nuts in particular contain arginine which helps relax blood vessels – promoting greater blood flow to vital organs – are incredibly diverse in the micro nutrients they possess, from vitamin E, K, magnesium, selenium, manganese, and are loaded with antioxidants (cell protecting compounds), which prevents against free-radicals doing harm to our cells, leading to lower risk of heart disease and chronic inflammation.
Ways to eat it: By the handful in a trail mix style with tons of variety, on top of your oatmeal or as a salad topper.
Fish
Fish is a great source of lean protein, while also being abundant in omega 3 fatty acids, and being micro nutrient efficient. Fish is rich in calcium and phosphorus and a great source of minerals, such as iron, zinc, iodine, magnesium, and potassium.
Ways to eat it: For lunch or dinner with a side of veggies and a healthy, low GI complex grain perhaps
Berries
Who doesn't love berries? There's a variety of them (blueberries, blackberries and raspberries) they're delicious and they even help brighten up a bland colour dish, like oatmeal. Besides the aesthetic effects of berries, they are incredibly healthy for us. They contain a load of antioxidants, high in fibre, and have a ton of nutrients to keep the system protected from disease causing radicals.
Blueberries in particular might be the most popular superfood berry around, due to their high amounts of antioxidants per serving (1 cup) and their cognitive effect as well. A study showed they individuals who consumed a serving of blueberries 5-6 days per week performed 6% bettter on motor skills than a controlled group.
Ways to eat it: in fruit salad, on top of oatmeal & salads and blended up in smoothies.
Eggs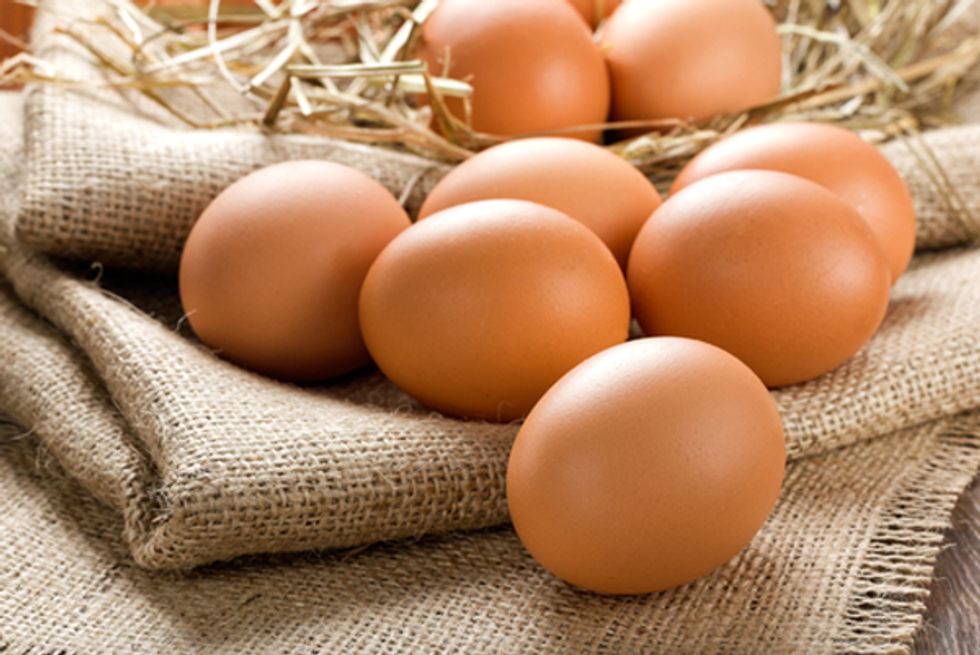 Eggs are so simple, yet so effective and healthy for us. Forget all that nonsense you've heard about how eggs are bad due to their ability to raise our cholesterol, which research is now showing is completely over exaggerated and lacks validity behind the negative effects of high cholesterol, and instead focus on all the benefits this food gives us.
Eggs are a rich source of a complete protein – containing all essential amino acids – and rich in healthy fat, containing 7 g of protein per whole egg, and 11 g of fat. Additionally, eggs are a great source of vitamins and nutrients (Vit A, B12, B5, selenium, phosphorus) , and raise GOOD cholesterol, leading to a lower risk of heart disease, stroke and a other common health issues.
Eggs also possess Choline, a compound most people don't get enough of. yet is a nutrient that supports several vital bodily functions, from improved brain function, protecting the heart, to boosting our metabolism.
Eggs are shown to be natures perfect food. No credible evidence shows 3 eggs or less per day is harmful in any manner.
Ways to eat it: As an omelette, fried (using healthy oil), poached, scrambled, boiled, on a sandwich or in a salad.
Cruciferous Vegetables
These veggies are truly Super-veggies in the most common sense in that they are perhaps the healthiest, most nutrient abundant food we could possibly eat on this planet, hence why, everybody from the age of 2-96, knows to eat more vegetables.
In terms of cruciferous vegetables, we're talking about vegetables in the brassica family – a type of genus of plant.
Leafy Greens
Dark, leafy greens also count in the brassica family:
Collard greens
Mustard greens
Kale
Bok choy
Swiss chard
Watercress
Broccoli and Its Cousins
You may already be reaping the benefits of some common cruciferous vegetables:
Broccoli
Broccoli sprouts
Cauliflower
Brussels sprouts
Green cabbage
Red cabbage
Cruciferous vegetbales are well-known to be rich in fibre (great for digestive purposes and gut health), extremely low calorie, and incredibly nutrient dense (rich in folate, vitamins C, E, and K, calcium, iron, , leading to the prevention and reduction of many chronic diseases, from cancers, to inflammation, to heart diseases.
Cruciferous vegetables are famously known for their cancer fighting properties, making consumption of these foods an absolute no brainer. "These vegetables supply sulfur-containing compounds called glucosinolates, which give them their distinctively strong taste and smell."
2.5-3.5 cups of a variety of veggies per day is a typical recommended daily intake.
Ways to eat it: These vegetables are great side dishes next to lean protein sources like lean grass fed beef, fish, turkey and chicken. Sprinkle on some olive oil and you got yourself one of the healthiest dishes imaginable. Feel free to add these veggies to your morning omelette or smoothie as well.
Natural Whole grains – Controversial, but can be an incredible source of nutrients when educated
There's a lot of misconceptions about grains, lately demonized for being too high carb (not necessarily the best for diabetics) and unessential due to the the popularity of the paleo diet, which removes all grains from one's diet. However, whole grains provide a great deal of nutrients. I wouldn't necessarily put "grains" in the superfood category as a whole, as that's simply too broad, but there are quite a few whole grains worth mentioning and are worthy of the distinction, 'super'.
The main thing to understand is the difference between whole grains and refined grains. A whole grain consist of 3 parts: the bran (contains fiber, minerals and antioxidants), germ (The nutrient-rich core that contains carbs, fats, proteins, vitamins, minerals, antioxidants and various phytonutrients), endosperm (contains mostly carbs (in the form of starch and protein).
Refined grains remove the bran and germ (the good stuff) and are left with the bad stuff. Whole grains on the other hand have the nutrients and minerals still part of it.
An example of an established "superfood" whole grain would be quinoa, in that it's a complete protein, gluten free and has a ton of vitamins and minerals attached to it. Ancient grains like millet (never tried it), oats and barley are also highly touted to be rich in antioxidant properties and staples of longevity in particular Asian cultures. The key is to make sure these foods are 100% all natural.
Ways to eat it: Quinoa is great on it's own with some pepper, lemon juice and Olive oil; it also goes great as a salad and side. Oats are a great breakfast option, either cooked fresh and warm or prepared the night before, as in 'overnight oats', mixed with nuts, seeds and berries.
Wrapping it all up
As I mentioned earlier, I could go on and on with a list of superfoods, but these tend to be some of the most well researched, commonly found foods available, making them your best bet to add to your daily routine. Enjoy your newly found energy, strength and vitality!